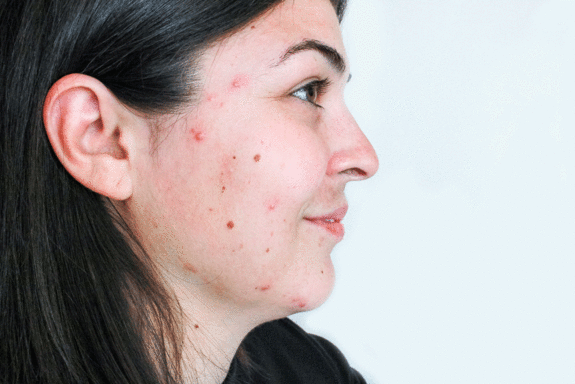 Treating Hormonal Acne
While acne is a problem many people of any age can struggle with, a consultation with Alicia at ClaraDerma helped Mandy overcome her battle with hormonal acne.
---
Acne is something that people of any age can struggle with and we know that it's can feel difficult to find the right solution that works for your skin type and that targets your specific type of acne. When we met Mandy, we knew this was a match made in heaven. 

Alicia helped Mandy identify her acne as hormonal acne. As it turned out, Mandy has struggled with hormonal acne for years and had tried what felt like every solution under the sun. She met with Alicia for a complimentary consultation at our office and discussed how best to treat her specific skin concerns.
What is hormonal acne? 
Hormonal acne refers to acne caused by the fluctuation in your hormones, mainly an increased level of testosterone. It typically occurs along the jawline and lower parts of the cheeks. It can take many forms — whiteheads, blackheads, or even cysts. Cysts are pimples that form under the skin and can be quite tender to the touch. Depending on how your acne presents, your treatment plan may change. This is why it's best to work with an expert to create a management routine that works.
Mandy and Alicia worked together to document the treatment process, her routine, and results! 
Head over to Mandy's blog for all the details! We have absolutely loved working with her to combat her acne, and the results speak for themselves!
Book A Consultation
At ClaraDerma+ we specifically tailor our treatment plans to your needs.
Book a free consultation with us and we'll take the time to get to know you and develop a plan that gets you where you want to be: comfortable in your own skin.
Book Now