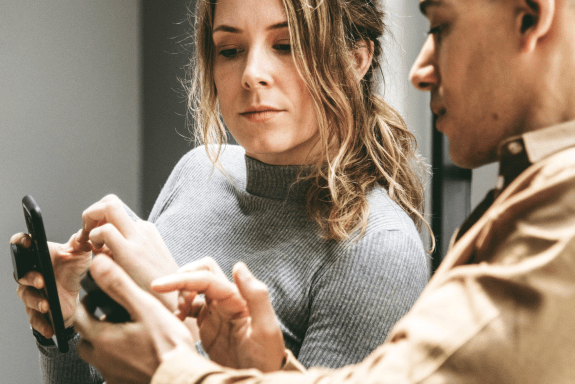 Getting Started
When it comes to your skin, skincare treatments, and especially facial treatments, you want to make sure you are doing your best when choosing an aesthetic clinic that will work with you to develop a skincare plan.
---
Unfortunately, aesthetics is not a regulated field, but it is very popular. This combination can often mean some clinics may not have the right training, knowledge, and follow-up care for the services they offer.

Today on the blog, we explore a few simple tips and tricks to ensure that you make the best choice when choosing a skincare clinic.
Look for a clinic with regulated professionals and a medical director.
Although aesthetics is not a regulated field, there are several professions within it that are regulated. What this means is that regulated health care professions, such as Registered Nurses, Nurse Practitioners, and Physicians, are licensed and regulated by a College that protects the public (that's you!). These Colleges have standards of education, training, and exams that must be passed in order to legally practice.
It also means that the standard of care you will be receiving is elevated. This is especially important if you are thinking of a more aggressive treatment that may have downtime and potential complications. Skin resurfacing treatments (such as Fractora or Fractional CO2 laser), dermal filler treatments, Botox, and even some chemical peels all have risks associated with them. These risks could lead to the need for antibiotics or medicated creams.
The extra breadth and depth of knowledge of a registered and licensed professional allows them to distinguish the difference between a normal reaction and one that may require a medical intervention. Often you can find this information on the clinic's website or when you call to inquire. A physician doesn't necessarily have to be on-site all the time, but knowing that they are ready and available for any possible complications that could arise provides added peace of mind.
Look for a clinic that offers an in-depth consultation before any treatment.
Many clinics offer complimentary consultations as a stand-alone service. This is a great way to check-in with the staff and view the clinic, and this can be especially helpful if you are unsure of what you are looking for. Come with lots of questions and pay attention to whether the staff is able to answer them.
The consultation should not be focused on selling, and you should not feel pressured. Be mindful of your 'gut feeling' toward the staff- how comfortable you are is very important when you are placing your trust in someone. Be wary of any clinic that skims over possible side effects, complications, downtime, and cost of services. You want to be as informed as possible and make sure you understand the risks and benefits of each treatment.
Always ask if the person you are meeting will be performing the treatment. If they are not, try to meet the person you'll be with. A true consultation should start with you answering a lot of questions and end with you asking a lot of questions.
For example, here are some of the questions the medical aesthetician should ask you:
Your current skincare routine
What products you currently use
What procedures, if any, you have had done
Current medications including supplements
Health conditions both current and in the past, including surgeries and dental work
Budget
What you are comfortable with non-invasive vs invasive procedures
Your comfort level with downtime
Diet
If you are pregnant, breastfeeding, or trying to become pregnant
Any special events coming up
Your story of what has brought you into the clinic.
In return, you can develop a comprehensive plan for your skin with the medical aesthetician. And I say WITH them because it's your plan and it should make you feel comfortable. A good consultation will always give you the ideal option and then allow you to tailor your comfort level and budget.
Look through before and after pictures.
In this day and age, most clinics will have an Instagram feed, Facebook page or a website showcasing their work. Take some time to review the pictures and make sure you like what you see. If you are looking for a natural lip enhancement and all you see are giant duck lips, that might be an indication you may end up like that too. You want to see a variety of looks, including the one you may be interested in.
If you are looking at a more intensive procedure, see if you can find a glimpse of what you may look like during your 'downtime' so you can judge if you need to take time off work or hide out from friends and family. You might be able to find a video of the procedure you're considering, which would give you another idea of what to expect. Here's a little secret… look at the staff during your consultation. Do they look frozen or overdone? How is their skin? That can also give you an indication of what kind of outcome you can expect.
Read reviews, especially the negative ones.
Google, TripAdvisor, ThreeBestRated and a load of other websites are a great resource to see what others say about the clinic you are considering. Look for negative reviews as well, and how the clinic responds to the criticism. Do they offer to rectify the situation? Do they say what they will do moving forward to address negative feedback? You want a clinic that is willing to hear out real criticism and concerns and make changes for the better. On the flip side, has the clinic won any awards? Does one practitioner keep coming up with rave reviews? Look at the positive comments as well.
Listen to word of mouth.
If you love the way a friend's hair looks, you've most likely asked them who their hairdressing goddess is. The same thing goes for aesthetic and cosmetic services! Word of mouth is one of the best ways to find a reputable clinic. That's because you'll be able to get real feedback from someone who's experienced it firsthand. Now, not everyone likes to share that they have had a little something done to help freshen up their look, but if you genuinely compliment someone on how great their skin looks and ask where you might go for a similar result, most people are happy to let you in on their secret.
Make sure your clinic talks about pricing.
Aesthetic services can be pricey- that's a fact. You have to ensure that your results will be worth the monetary investment you make, as well as the time and emotions that go along with the whole procedure. Look for a clinic that is upfront about the cost of treatment. They should also be able to give you different options in different price ranges. That being said, understanding that some things may cost more to achieve your desired result is important.
For example, if you have fine lines around your mouth and hate your jowls, your options may be to use dermal fillers, Botox, or a tightening and resurfacing procedure such as Forma or Fractora. All of them together would lead to a super amazing result, but would also be very costly. If you don't like the idea of injections, then maybe a non-invasive route is a better option. If you're open to all procedures but have a budget in mind, you want to be confident that your medical aesthetician can review with you what may give you the best outcome.
Also, know that not everything has to be done at one time. The medical aesthetician should review with you why some things should be done first, or the reasoning behind saving money for a treatment to ensure the best results. A comprehensive skin care plan will account for budgeting over several months or even a year. Sign up for the clinic newsletters and ask if certain procedures will be coming up with special pricing in the next few months. Some clinics will give a small discount when services are purchased as a package and pre-paid. But a conversation about price should be free and easy so there are no surprises when you're cashing out.
Overall, the best way to ensure you are finding a reputable clinic that fits your needs is to do some independent research. That includes looking through their website, social media feeds, having a consultation and asking around. Always make sure you feel comfortable with the staff and all your questions have been answered.
Book A Consultation
At ClaraDerma+ we specifically tailor our treatment plans to your needs.
Book a free consultation with us and we'll take the time to get to know you and develop a plan that gets you where you want to be: comfortable in your own skin.
Book Now